West Broadway

Taking cues from the minimal and raw Soho artists' spaces of the 1960s and 1970s, the Architects sought clarity of structure by exposing the ceiling joists and the original wood columns + beams. Built in 1903, the
West Broadway Arches
in Manhattan's landmarked Soho neighborhood housed a printing press and was converted to multiple unit live-work lofts in 1978.
Joint living-work quarters for artists are spaces in non­residential buildings used for living quarters and work space by artists and their households. In M1-5A and M1-5B districts mapped in SoHo/NoHo, artists may occupy joint living-work quarters as an industrial use.
-
Excerpt from nyc.gov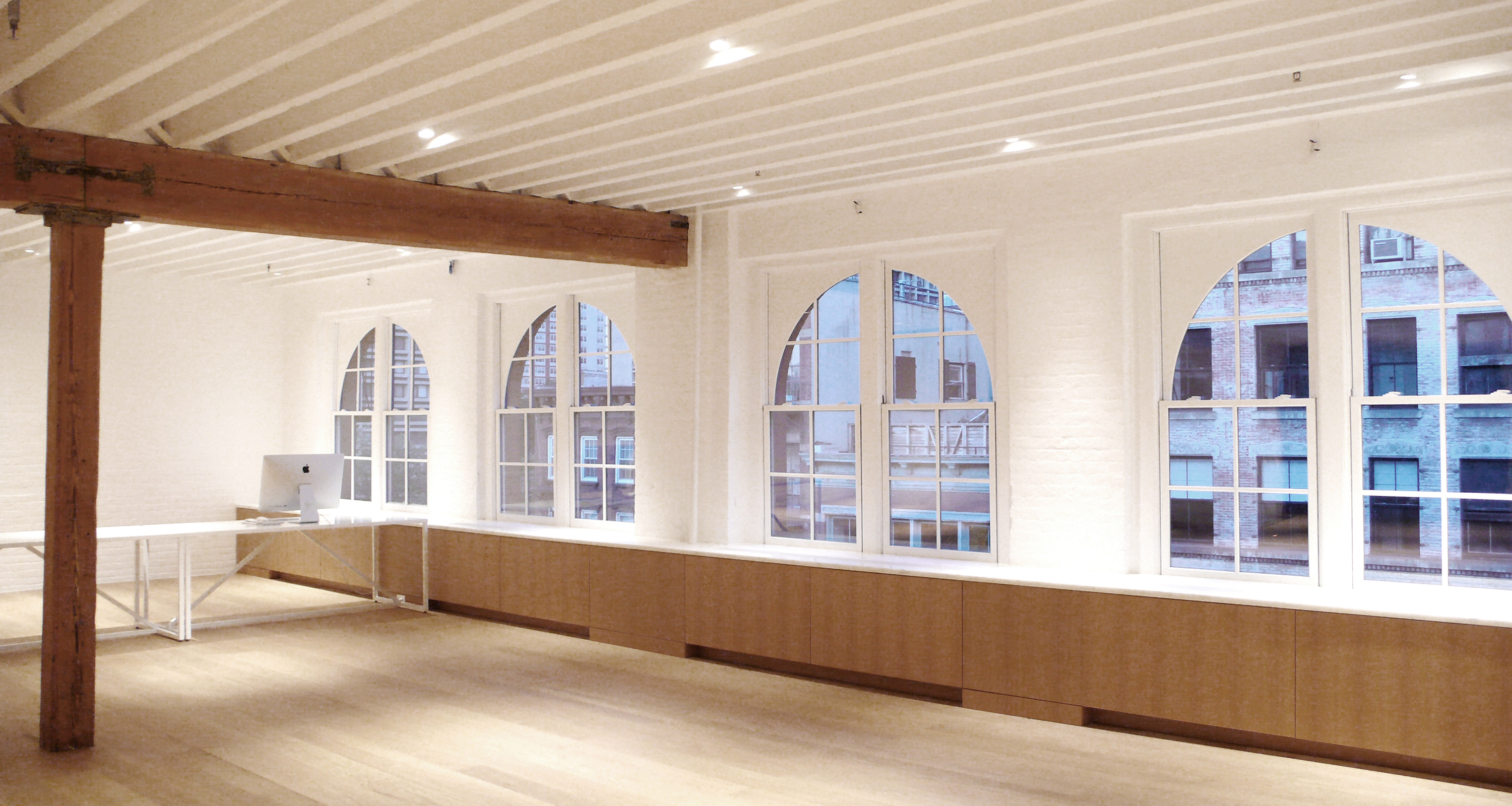 The new millwork is fabricated from quarter sawn rift cut white oak. To meet building code requirements for fireproofing, a white Intumescent coating was applied to the exposed ceiling joists. A new sprinkler system and dimmable LED lighting tracks were installed in between the ceiling joists for minimal visual impact. A new MEP system was installed to accommodate a new heating and cooling system.
A palette of 4 contrasting tiles in the same tonal range was used in the bathroom for the walls, floor, shower floor and shower niche.

For slip resistance, tactile stone mosaic tiles were chosen for the shower floor. The glass tile mosaic in the square shower niche is inspired by the textiles & graphics of Anni Albers. Made from ecologically friendly Wetmar Bio material, the sink and bathtub fixtures by Wetstyle have a matte white finish.

Perimeter millwork insertions contribute to the functionality of the space and include kitchen cabinetry, radiator enclosures, worksurfaces, open shelving, and wardrobe storage. The resulting 2500 square foot configuration is a neutral and flexible backdrop to suit the occupants' creative endeavors.
Project type: Live / Work Loft Renovation, New York City
Project role: Survey, client co-ordination, design, 100% CD production (DOB permit, landmarks & construction set), millwork drawings, lighting, MEP + AV co-ordination, material selection, specifications, project management and construction oversight with the Architect of Record
Team: Armand LeGardeur AIA (Architect of Record),
Natalie Cheng RA