Sackett Street House


This urban infill project promotes low rise urban densification through the interpretation of mixed-use zoning regulations and planning policies. As the city moves to turn more half-basement apartments into legal, safe and affordable housing, Architects have the opportunity to develop new multi family live-work housing typologies.
Unlike many city basement apartments which are treated as residual spaces, the half-basement unit in this project interlocks with the upper unit and forms an integral component of the architectural composition. In contrast to the dramatic upstairs vs. downstairs dichotomy depicted in the 2020 Oscar Winning Movie
Parasite
, the 2 units in this house have different spatial characteristics but the upper unit is not favored over the lower half-basement unit in terms of use or occupancy.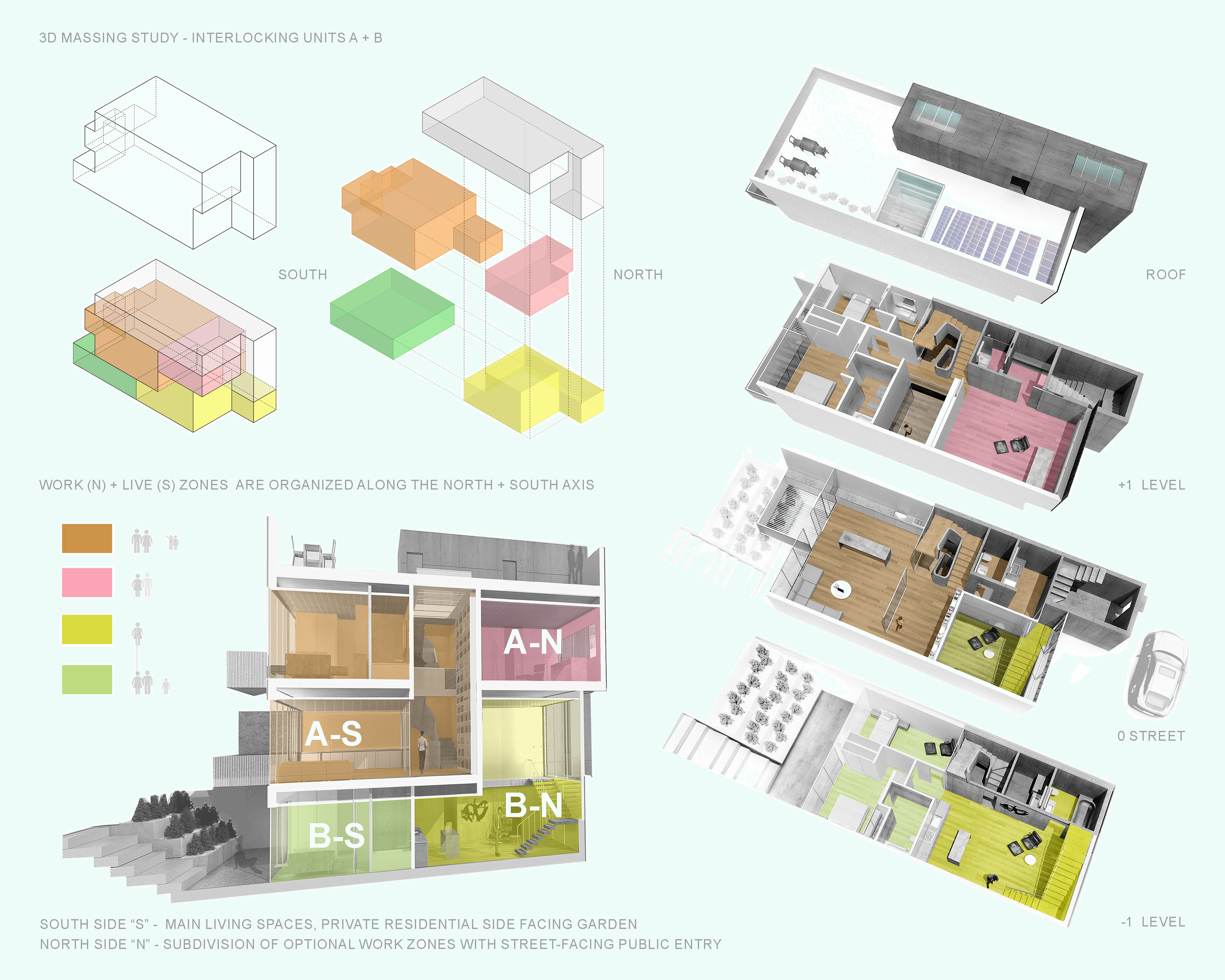 The street facing exposure is the public face of the house, allowing for a commercial gallery with street level access and a separate office above. The garden facing exposure is the private zone of the house, allowing light, space + air to permeate the living spaces. For gatherings and parties, the rooftop can be directly accessed via the concrete stair core without entering the interior. Consideration of entryways, egress paths, and stair circulation allow for a clear separation of the public and private domains.



Drawing on inspiration from historic Architectural Precedents and social trends within Popular Culture, the Sackett Street house employs architectural design, space planning, natural ventilation and high performance HVAC solutions to envision a scenario for future-proof urban living.



The flexible framework allows the occupants to re-order various spatial functions to suit evolving household sizes and needs over time, and adapt to unforeseen external forces. Perhaps Resiliency does not reside in any single solution or concept? Instead, Resiliency is a multifaceted notion that balances proactivity and reactivity to inform solutions to various challenges and disruptions.
This RESILIENT HOUSE prototype consists of:
1. Layouts for intergenerational living or multi-household living
2. Mixed-use urban infill that allows for live-work configurations
3. Pre-fabricated components for economy + ease of construction
4. Options for alternative energy usage + water conservation
5. Active + passive strategies to optimize indoor air flow + air quality
6. Landscaped + covered spaces for outdoor living and small gatherings
The MEP and lighting systems in this house function to filter, purify and disinfect the air though both natural and mechanical means. The quantity of mechanically recirculated air is reduced through cross ventilation. Additionally, the vertical stack effect minimizes the seasonal reliance on air conditioning and reduces harmful environmental effects. The continuous grid ceiling conceals a robust MEP duct system with the capability to deliver a much higher rate of indoor air exchange than the average residential unit.
Public health concerns have ramped up efforts to prevent transmission of airborne infections using environmental controls. Ultraviolet germicidal irradiation (UVGI) functions on the premise that the blue spectrum of visible light has anti-microbial properties, and has received renewed interest for residential + commercial applications after decades of underutilization . In this house, UVGI functions safely within occupied spaces, but a second more powerful deep cleaning mode eliminates pathogenic airborne micro-organisms when the occupants are away.
There are tangible social benefits latent in housing at the scale of a duplex or triplex, including a better sense of community, an option for seniors to age in place, and a broader and more inclusive definition of the family unit. The benefits of a multi-unit live-work low rise structure in the urban core include proximity to the transit network and city amenities, and a larger customer base for emerging storefront businesses and local retail.
Project type: Multi-Family Live / Work Units, Urban Infill Concept
Project role: Concept design lead, Architecture + Interiors
Team: Natalie Cheng RA, Tianlan Deng, Xinglu Zhu
Ivan Pazos / dox 3d, APA (Sustainable Design Consultant)
Projects
Next︎